Managed IT Services
We offer managed and co-managed IT services for small and medium-sized businesses so you can focus on the core activities that increase your top-line growth.
Managed and Co-Managed IT Services
Our team can integrate seamlessly into any organizational structure to build, manage, monitor, and secure your systems.
Remote and On-site Support
We solve your problems quickly. All of our clients have a designated account representative that monitors account activity and is ready to help when needed.
Network and Server Management
Managing your network and servers requires a lot of proactive intervention. We maximize your uptime ensuring your systems are operating at peak performance.
Device and Inventory Management
From procurement and inventory management to asset depreciation tracking, we have the experience to manage all of your IT assets, effectively.
Monthly KPI Reporting
We measure network performance, track cyberthreats and report all relevant metrics, giving you a clear view of your devices and systems.
Application Management
By providing software provisions & permissions, renewing your licenses and managing your cloud drives we make app management a breeze.
Phone-based Systems
We deliver the best phone-based solution to support sales, customer support and team collaboration.
Cloud Solutions
Our solutions are designed to meet your organization's need for robust security, reliability, and user productivity. We implement custom cloud solutions that leverage market-leading products like Office 365, Microsoft Azure, Cisco Meraki, and others.
Mobility
Leverage the cloud to take your data everywhere you go and get work done when you travel or have downtime between client meetings.
Business Continuity / Disaster Recovery
Our cloud solutions are designed to keep all of your business data safe so you can be back in business less than two days after disaster strikes.
Cloud Infrastructure Services
We can help you go from on-prem to the cloud by building your cloud infrastructure and managing your data center, servers and endpoints.
Collaboration
Whether you're working on different floors, or different parts of the globe, our cloud solutions are designed to keep your team connected, and more productive.
Scalability
It's important to have an infrastructure that can grow with your business. Our cloud solutions are specifically built to handle team growth and system expansion.
Software as a Service (SaaS)
Running a business in the 21st century requires a SaaS toolstack. We're here to help you buy, install and configure a series of apps that integrate with Office 365.
Data Security & Compliance
Whether you're in a regulated industry or not, our approach to security follows the NIST Cybersecurity Framework. This ensures that our solutions are safe, secure, and compliant with all data security regulations.
MSP Program
Voltek is a proud member of FCI's Managed Service Provider (MSP) Program. As such, FCI performs annual Technical Controls Security Assessments on our networks and endpoints to confirm that they're secure and compliant with our clients' regulatory requirements. This partnership ultimately serves to align Voltek with FCI, so we can better serve our clients.
FCI is listed in FINRA's Compliance Vendor Directory and is a member of FINRA's Preferred Pricing Program.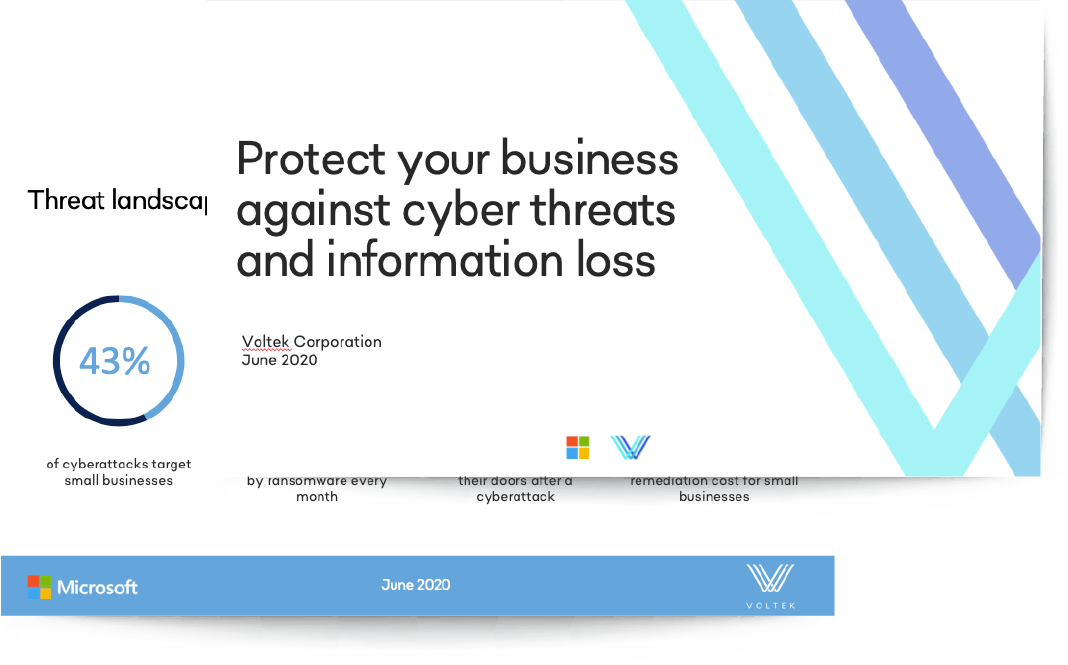 Learn why cyber-attacks are so successful today and how to protect your business
IT Consulting & Projects
Our clients are constantly looking to the future. We're here to help them stay ahead of the curve by guiding them through the planning process and helping them implement strategic projects.
Technical Assessments
We help you measure the health of your IT environment and how it impacts your business goals, so you can move forward with confidence.
Procurement & Provisioning
Whether you're looking for physical devices and on-premise software or an "as a service" solution, we can get you the tools and licenses you need to succeed.
IT Roadmaps
Using our deep knowledge of the industry, our experts help you strategize each quarter to make your technology work more seamlessly.
Implementation Services
By handling IT implementation from end-to-end, we give you the flexibility to focus on important customer-facing activities and core business tasks.